Sumio Iijima
In 2001 many breakthroughs occurred in nanotechnology. Researchers at IBM develop a method to grow specific nanotubes in formation, and also build first logic gate ('NOT') (basic units of computers) on the surface of a (1.4nm) nanotube.
Florian Banhart develops a technique to weld nanotubes together, Hong Kong Scientists discover that nanotubes can superconduct (conduct electricity without resistance) by placing hydrogen atoms on the exterior of the surface.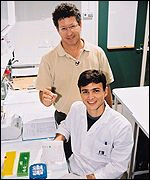 In 2002, J. Jacobson, J. Schwartz, and S. Zhang develop a process by which DNA molecules can be selectively manipulated by radio waves.