Our prototype is comprised of the following parts:
Inspired

by Harvard's

Kilobots

, we built a robot of our own. This robot is powered by a 3V battery and propelled by 4 pager motors.

We finalized our design and produced a swarm of 22 robots. Each 1.5 inch robot is identical but can self-assemble in a swarm.


We used this swarm of robots to model the PBS cubes scaffolding inside a wound. This model made by team members demonstrates a magnified cross section of a cut.
| | | |
| --- | --- | --- |
| While researching self-assembly we learned about programmable materials. We programmed this memory wire to resemble an oval when placed in warm water. | Wyss Institute has recently discovered the programmable properties of DNA. We made DNA senses that match, to demonstrate complimentary strands. | We made cubes to show that PBS is DNA wrapped hydrogels containing a stem cell. |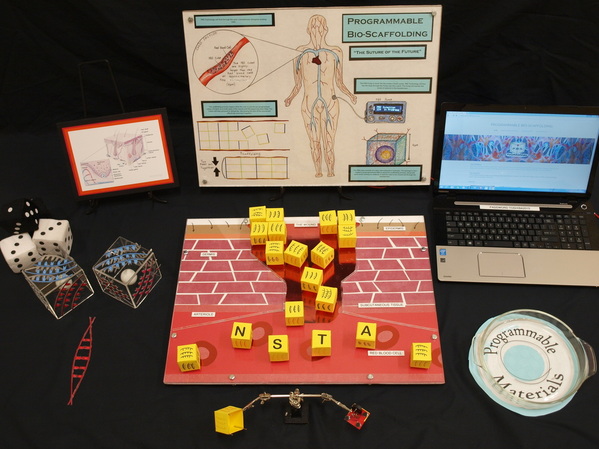 From self-assembly... to programmable materials... to bio-scaffolding...
to the Suture of the Future!