Home | Membership | Conferences | Exhibits & Advertising | Publications

Question? Contact orders@nsta.org
Publications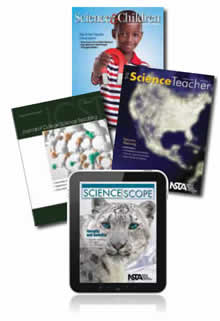 This group develops and distributes all of NSTA's print publications and generates the overwhelming majority of its online content. Its deepest roots lie within NSTA's four peer-reviewed member journals—one for each major grade band from preK through college. The journals are available in print and—as an added member benefit, new for this year—in digital form, accessible via desktop, smartphone, or tablet.
An archive of thousands of individual articles in PDF format is also available on NSTA's website. This archive now includes all published journal content from 2000 to the present. Each year, that archive is accessed by NSTA members—as well as by tens of thousands of additional educators across the United States and, increasingly, worldwide.
Publications is the home of NSTA Press®, which produces at least 25 new books each year, all of them in both print and electronic form. Over the past decade, NSTA Press has increasingly become the publisher of choice for leading authors eager to reach the science education community.
The Press develops award-winning content across all science disciplines, for every grade band. New this year is the NSTA Kids imprint—'a separate line of children's picture books that impart sound science.
NSTA Press books are now available worldwide in English, through distributors in both Asia and Europe. Increasingly, individual titles are being translated into other languages, including Arabic, Azerbaijani, Chinese, German, Indonesian, Japanese, and Portuguese.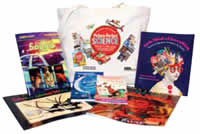 In addition, Pubs builds complete educational kits called ClassPacks, and offers branded items known collectively as NSTA Gear.
Publications also operates the Science Store online and its on-site extensions at NSTA conferences and in other venues. Further, Pubs has begun a promising new side-business—e-licenses for NSTA Press books, enabling educators throughout a school or across an entire district to share access to the very best classroom content.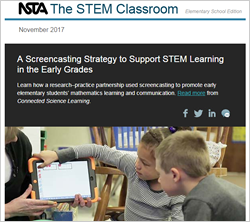 In addition, we publish the NSTA Reports newspaper and a substantial amount of daily news online, plus NSTA's numerous blog entries. Ever mindful of new ways science teachers are working and communicating, Pubs has developed a vibrant presence on Facebook, Twitter, LinkedIn, and Pinterest.
Further, Pubs develops and mails virtually all of NSTA's e-newsletter content, from NSTA Express (a weekly overview of what's happening in science education) to the award-winning Book Beat (outstanding new content from NSTA Press) to Science and the STEM Classroom, whose three monthly editions are targeted at the elementary, middle, and high school levels.