Home | Membership | Conferences | Exhibits & Advertising | Publications

Question? Contact Exhibits: exhibits@nsta.org | Advertising: advertising@nsta.org
Exhibits & Advertising
Exhibits
Why Exhibit?
Face-to-face interaction is important to science educators.
4 conferences (3 area and 1 national) and ongoing special events (STEM Forum & Expo) to maximize your exposure to science educators in the U.S., Canada, and internationally.
Exhibitor Workshops—your opportunity to shine in front of attendees off the exhibit hall floor. Showcase products, services and your company—lmake your company a classroom name.
Sponsorships—lmaximize your brand at the conference. Put your company in front of attendees by sponsoring a featured speaker, bags, name badges, or share your own idea. We are flexible and willing work with you.
Generate leads to create or add to your database.
Need more reasons to Exhibit? "Key Reasons to Exhibit with NSTA"
Conference Schedule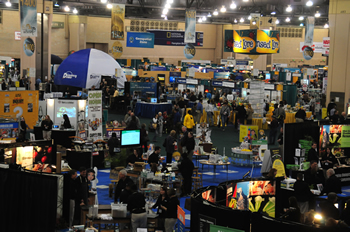 2019 STEM Forum & Expo
2019 Area Conferences
Salt Lake City: October 24–26
Cincinnati: November 14–16
Seattle: December 12–14
2020 National Conference
Pricing
Area Conferences
Booths:*
10' x 10' corner: $1,625
10' x 10' in-line: $1,525
*inquire about how to save money by signing up for all three Fall Area Conferences
Exhibitor Workshops:
$775/one
$695 each/two or more
National Conference
Booths:
10' x 10' corner: $2,700
10' x 10' in-line: $2,400
Exhibitor Workshops:
$875/one
$825 each/two or more
$1,000/each workshop for room size to accommodate 120+ participants
STEM Forum & Expo
Booths:
Standard rate: $1,245 per 10' x 10'
Nonprofit rate: $1,045 per 10' x 10'
Forms
2019 STEM Forum & Expo Contract (PDF)
2019 Area Conference Contract (PDF)
2020 National Conference Contract (PDF)
Advertising
Why Advertise?
Target Market—NSTA is the largest association for and of science teachers of all grade levels and science disciplines. NSTA members and visitors are the prime market for products, services, and books related to science education.
Grade Specific Journals—NSTA publishes 4 journals dedicated to elementary (Science & Children), middle (Science Scope), high school (The Science Teacher), and college professors (Journal of College Science Teaching).
Science Newspaper—NSTA Reports is science education's monthly New York Times for the latest information, trends, and news about science education.
E-Newsletters and Online Banner Advertising—Complement your print advertising with an ad in an NSTA award-winning e-newsletter and/or banner ad on NSTA.org.
Contacts
Sales
Exhibit Operations/Logistics
Exhibitor Workshops
Advertising Logistics