The toothbrush of the future will have a special sensor on it that will detect if you still have bacteria on your teeth.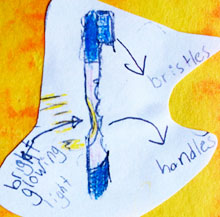 The toothbrush will let you know as soon as your teeth are perfectly clean!  That means more and more children will grow up with strong, healthy teeth.
Additional Features:
1. Waterproof
2. Battery lives forever
3. If the brush senses a cavity it will send an email to you and your dentist.