Technological Capabilities:
See What GAN Can Do
Wireless Information Integration combines an improved modern entertainment, communication, and information-providing technology with superior new developments into a single device.
GAN:
Better than Broadband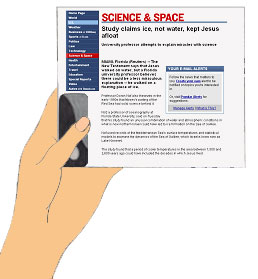 Consumers save time and money with one source for on-demand movies, e-books, TVoIP, global databases, news. etc., and because of streamlined communication (e.g. spontaneous videoconferencing) businesses and hospitals will save money and increase productivity.
Local Network and RFID Interaction
Local networks and radio frequency IDs (RFIDs), interactive tags that contain product data, will help personalize broadcasted information. For example:
[Morning Conveniences (click icon)]
Broader local networks spanning several miles will allow information exchange between users and stores or authorities or peers at the workplace.
[Click on Thumbnails to view animations]

[A Trip to the Store]

[Helping out the Police]
The FDIA also features convenient shape transformations because of its shape-memory polymer, and provides privacy with directional sound along with security because of biometric palm-vein scanning (see images below).