Consequences
There are many positives and negatives about our invention.
Positives
Some positives about our invention are that it helps patients with strabismus, especially if they might not have to get surgery to correct their strabismus issue. Also there could be many designs of these glasses so children won't be embarrassed by how they look because of the disorder that they have.
Negatives
Some negatives of these glasses are that the glasses would be very expensive until they are mass produced, the children who would use the strabismus glasses would have to wear them all the time, and they might have to change the battery every few months if they don't have the optional feature of a charger at the back of the frames.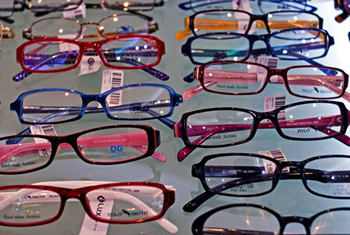 The Strabismus Glasses will be available in many different frame colors such as the glasses above
Picture from flickr.com