Scientists and doctors must find a way, either physically or chemically, for mechanical devices to find the Epidermal Growth Factor (EGF) receptors so that the CSD can bind onto the cancer cell through the EGF receptors.
There must be a simple and practical way of creating the assembler that Eric Drexler had proposed of. Yet, scientists are faced with the chicken and egg problem; an assembler is needed in order to create another assembler.


Finding a Way: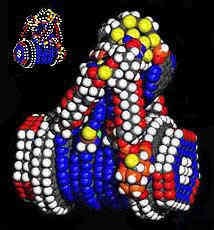 Finally, the microscopic battery must be 100 nanometers or less in its dimensions in order to fit inside a the CSD. Currently, the smallest battery (made out of radioactive isotopes) is one-millimeter wide.
The Assembler
Epidermal Growth Factor (EGF) Receptors
Microscopic Battery